Innovative agriculture
Based on the electrical activity of your crops.
Vegetal Signals translates the state of your plants in real time.

Real-time monitoring of the water status of your vines

Smartphone application
Optimize your irrigation strategy: according to the desired final product.
Save water: reduce costs and environmental impact.
Position biostimulants: better resistance to water stress.
Compare the behavior of your plots according to the vintages.
Compare the impact of your technical itineraries.

Measurement of the electrical activity of 8 plants
Embedded calculation
Emission of signal characteristics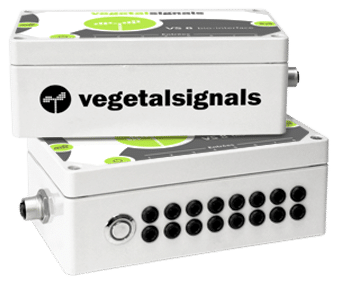 Vegetal Signals
uses machine learning and artificial intelligence
to extract useful information for farmers from signals.
Projects under development
Our future tools will allow you to continuously monitor the needs of your crops in water
in nutrients and phytosanitary products according to your technical itineraries.
Maturity monitoring
More…